November 1, 2008 @ 21:25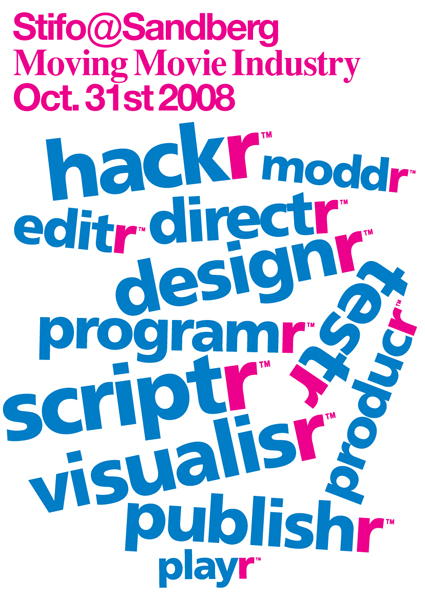 Yesterday was the 'kick-off' symposium for the Stifo@Sanderg workshop at the Public Library of Amsterdam. A day full of lectures about the current and future state of affairs in the movie industry (although not all lectures were that closely related to film)
Among the speakers was Bruce Sterling (USA) who talked about the possible futures of film (which he pointed out in the end are all already there) and which (if any) will dominate the future. And as a sidenote he would like to see one of his science fiction novels made into a bollywood movie.
Ton Roosendaal (NL) gave some insights into the great open source software Blender, what it does, how it s developed and how they are able to survive without selling the software. He also showed some clips from the latest open source / open content movie Big Buck Bunny and the upcoming game Yo Frankie.
The most impessive speaker of the day was Floris Kaayk (NL) who has already created some very very impressive semi-animated films (The order electrus and Metalosis Maligna). He talked about his process of writing, experimenting and post-production. Very impressive to see such a young person who is able to realize his own dreams. He also gave a short sneak peak of his coming animation, his first one with a budget.
Jan-Bart van Beek (NL) gave a really slick presentation about Killzone 2 and how the develop this and about the filmic qualities of modern games, even comparing (or is that implementing) camera work and angles from real movies.
Anne Helmond (NL) gave a nice presentation about the whole blogging phenomenon. Old stuff for me, but the biggest part of the audience being filmmakers and alike a nice and clear lacture anyways.
Geert Lovink (NL) closed with the presentation of the Video Vortex book. Or so I think, everybody was distracted by the best of YouTube video he played during his presentation. Hard to focus. (hmmm he promised to put up the site, but i can't seem to find it right now)